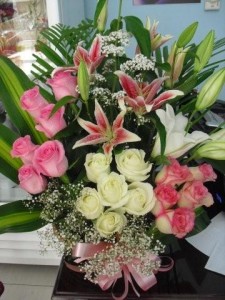 Professional flower delivery shop in Dubai UAE is experienced in delivering flowers, cake, chocolates, balloon, teddy etc on any occasion. We know that a gift order is given to us when the sender is too far from Dubai, and he is not able to meet and give it personally, or he is too busy and unable to move out of work place.  So we take care of every details of the order, and deliver best flowers on given date within the time range specified.
Any one from UAE or any other place in the world can contact our flower shop in Dubai asking for flower delivery.  Order can be submitted online and payment can be made through credit card. Here you can get flowers with delivery in Dubai at the cheapest prices with no extra delivery charge.
Birthday- A colorful bouquet of mix roses can brighten the day, when it goes to the recipient with the message that comes from your heart. A birthday cake from Ceasers or Mr Baker can be added to it again with a short message on it. What about a colorful helium filled balloon with the writing -Happy Birthday? Yes it goes very well with flowers and we have it ready. A box of Ferrero Rocher chocolate box of 200 gm can be given with the arrangement, to leave sweet memories of the gift.
Anniversary: Confused about a gift to wife on anniversary day? Final answer may be a beautiful flower bouquet delivered to her office on same day morning. She will really be surprised and would be excited to read your lovely message on greeting card.
It is not expensive to deliver a flower arrangement to an office in Dubai and also it is not difficult and time confusing. Just a few minutes and a few clicks to finish the order and payment.