Best Options to Impress with Flowers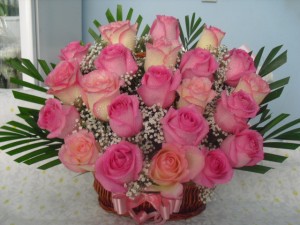 To get her and live a life together would be a burning desire. Everyone needs more of what they already have. Best way to get what we need want is to give. It is like investing with a purpose. Always remember regular act can make a big difference. It is better to do it in 3 different days or rather three weeks. It is the message that goes with flowers that is more important. Take your time and make suitable and thoughtful message to send with flowers. Here are 3 best ways for anyone to impress with flowers as gift.
1)      Send Hand Bouquet of Red Roses
It may be 9 or 12 or two dozen roses that you would like to send her for the first time. One or 101 or more roses also can be arranged to a hand bouquet for delivery. Plain simple wrap or a fashionable style can be chosen for the bouquet.  Theme of red color may be better for the first meeting or proposal. First impression should always be the best and red roses would help to make it great.
2)      Door deliver a basket of mix roses
Send a surprise that will exhibit true colors of love life to her residence door steps. Keep it at the door or give it inside direct to the recipient as per the request or requirement. Always seek the support of the best flower shop when you need a gift in Dubai. Choose mix flowers, single color or multiple colors as per the requirement and order online. If the address is clearly mentioned while submitting an order, item can reach the recipient in total astonishment. A big basket or vase arrangement would be really impressive by the size and natural appearance.
3)      Send Lilies in Vase to her office desk
When it is to her office there is no need to call in advance, just go to the reception and ask for her desk and deliver. Long stem oriental lilies in pink or white color or in mix would give out the fragrance for several days.  6 or 8 stems of lilies would be ideal and best if it can be sent every week to impress her with flowers. Purpose that is clear within you gets communicated silently. It may take 3 attempts to express your feelings or thoughts completely. Go ahead and contact us for quick action on it.